Honeymoan
+ Must Be Ghosts and TNL VZN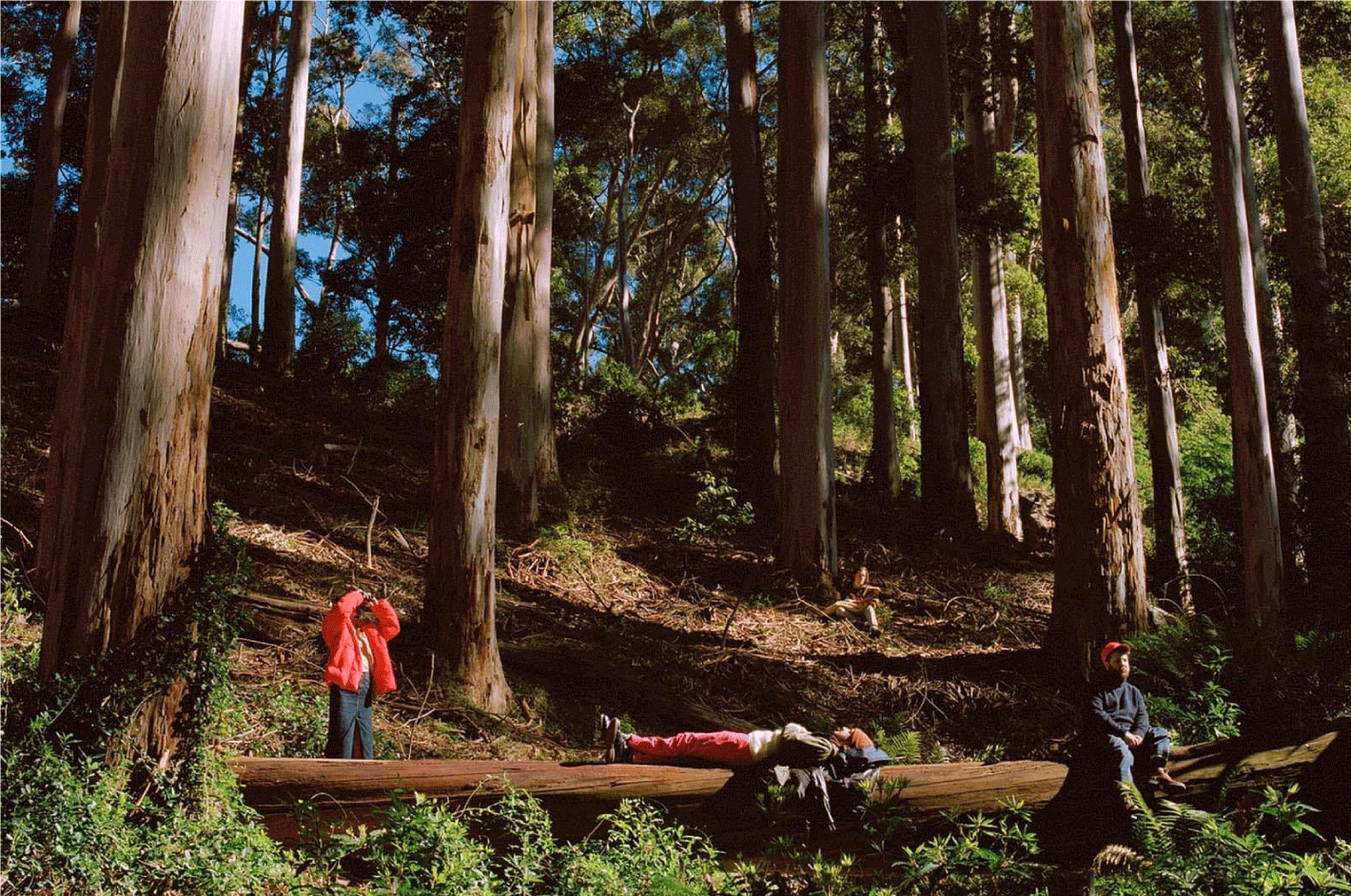 Event Details
Date: Thursday 12 October 2023
Doors: 7.30pm
Price: £10
Ages: 16+
Honeymoan
Even at HONEYMOAN's very first jam in their native Cape Town, it was clear they had a rare creative spark. By the end of day one they had already produced two ready-made bangers – the bracing guitar-driven rush of '</3', and the slick down-tempo earworm 'We' – that were only a taste of what was to come. That spark has now been fanned into an intense flame. HONEYMOAN, consisting of frontwoman Alison Rachel, multi-instrumentalist Skye McInnes who she's known since their teenage years, and producer Josh Berry, are fast hurtling towards the release of their debut album 'Sorry Like You Mean It'.
It's a record of enormous scope, from the dynamic psychedelic pop of 'Sit Right' to the bracing electroclash odyssey 'Bad News'; gritty pop-punk on 'Sorry Like You Mean It' to afropop-indebted grooves on 'Pickup, Don't Pickup'; to a masterpiece in melancholia on indie-tinged lead single 'Shortcuts'. At ease in every one of the record's myriad styles, Alison's lyrics delve deep into the personal.
"I draw inspiration from the experiences that I have with people, often romantic," she explains. "Most of the songs represent an encounter with someone in particular, some quite profound, some more playful and silly." If there's a theme that runs through most of the record, she explains, "it's my love life." From that broad subject she draws relatable and accessible tales – mismatched desires ('Bad News'), sheepishness about revealing a cringey new partner to your friends ('Show You Off'), and righteous rage after an ex's infidelity ('Pickup, Don't Pickup').
There are deeper moments on the record too. 'Seriously, Good Luck With That' is a nuanced psychoanalysis of a toxic former partner, "when someone is deeply wounded and it manifests as them behaving a bit like a piece of shit." 'Sorry Like You Mean It' explores the often contradictory emotions that surround dating someone with mental health issues. "The lyrics present this idea, 'make a fist or hold a hand' like everyone has a choice in how to use the energy they have."
Now based in London, HONEYMOAN's journey to this assured point has been turbulent, seeing the trio operate at times with members scattered across different continents, and maintaining momentum through the coronavirus pandemic, but whatever has come their way they've never lost that sense of creative freedom that was there from the start. "We've always managed to maintain that energy of playing for fun," Alison says.
Their roles in the band are balanced and well-defined. Skye works out the group's infectious instrumentals primarily on guitar and Alison handles vocals and lyrics, both placing emphasis on hooks and maximum impact. Then, it's Josh's turn. As a producer he's been using HONEYMOAN to sharpen his skills to a razor's edge and is by now a master of his craft. Thanks to him, their songs bustle and fizz with texture – blasts of synth here, slick and innately danceable basslines there.  That said, the three are wary not to rely entirely on his wizardry. "One thing we were very aware of with the new album was making sure that the songs still stand up on their own. They should be able to be stripped down to just guitar and vocals and still slap."
It's a sound that pays no heed to genre distinctions. Alison's songwriting inherently leans towards pop, while Skye draws on influences including progressive rock, an intriguing contrast in itself. "I listen to everything, from Stravinsky to Sam Cooke to Justin Bieber, I love it all," Alison says. "We try not to put any boundaries on it," Josh concurs. One of the reasons the songs are so divergent is that they were written over the course of two years, but there's also been a desire to push outwards baked into the band's psyche from the start. "Coming from Cape Town, there's nobody for us to look up to really, we don't have much of a scene which makes our direction very global," Josh continues. "We're always looking overseas towards music that we admire."
Currently the band operate in deeply intense bursts of creativity, reconvening in their native city a few times a year to pack as much in as they possibly can. "I just got back from Cape Town a week ago, and we wrote five songs, shot a video and played two shows in two weeks. We're so productive when we're in the same place it's wild,"
The further afield they take their live show, the more validating the experience. "It's been awesome to be in this band, play music that I enjoy and that actually has an audience," says Skye. Adds Alison: "One thing we loved on our last run of shows was just how much people have resonated emotionally with the music. We had so many encounters with fans who had tears in their eyes, who came up to us and said how our music helped them through a difficult period. Hopefully this record will be the same and people will resonate deeply".
Given that their earliest years were marked by many months of coronavirus lockdowns, "in a way it feels like we're only just starting out now," Alison says. Over the pandemic "we didn't realise before that being in the same room was so essential." What's most telling about HONEYMOAN's quality as a band, however, is just what's possible now they're through the other side. With tour dates in the diary, and a tightly polished debut album on its way, it's exciting to imagine just what could be possible.
It is telling that that record ends on 'It's Gone'. Although it's the first song the band wrote for the record, thematically it finds the group at a point of resolution. A sparse, plaintive arpeggio and a meditative vocal from Alison. "It's probably the only song that's not written about anyone else, it's drawn on reflections from my childhood, growing up and finding a sense of self." After an album of such tumultuous mood swings, HONEYMOAN end things on a note of equilibrium, primed for what comes next.
It is always worth looking backwards as well as forwards, if only to take stock of just how far the band have come since that rehearsal in Cape Town half a decade ago. "There's been a natural progression in sound," Alison says. "It's been a great learning experience, and we've just gotten really good at writing as a team." It is a sound, it's worth remembering, that is distinctly their own. They might have established an exceptional kind of instant connection there and then, but in the years since they've built on those foundations to create something even more special than that.
Also Featuring
Must Be Ghosts and TNL VZN