Echo Gecco
+ Rai Kah Mercury / First Frontier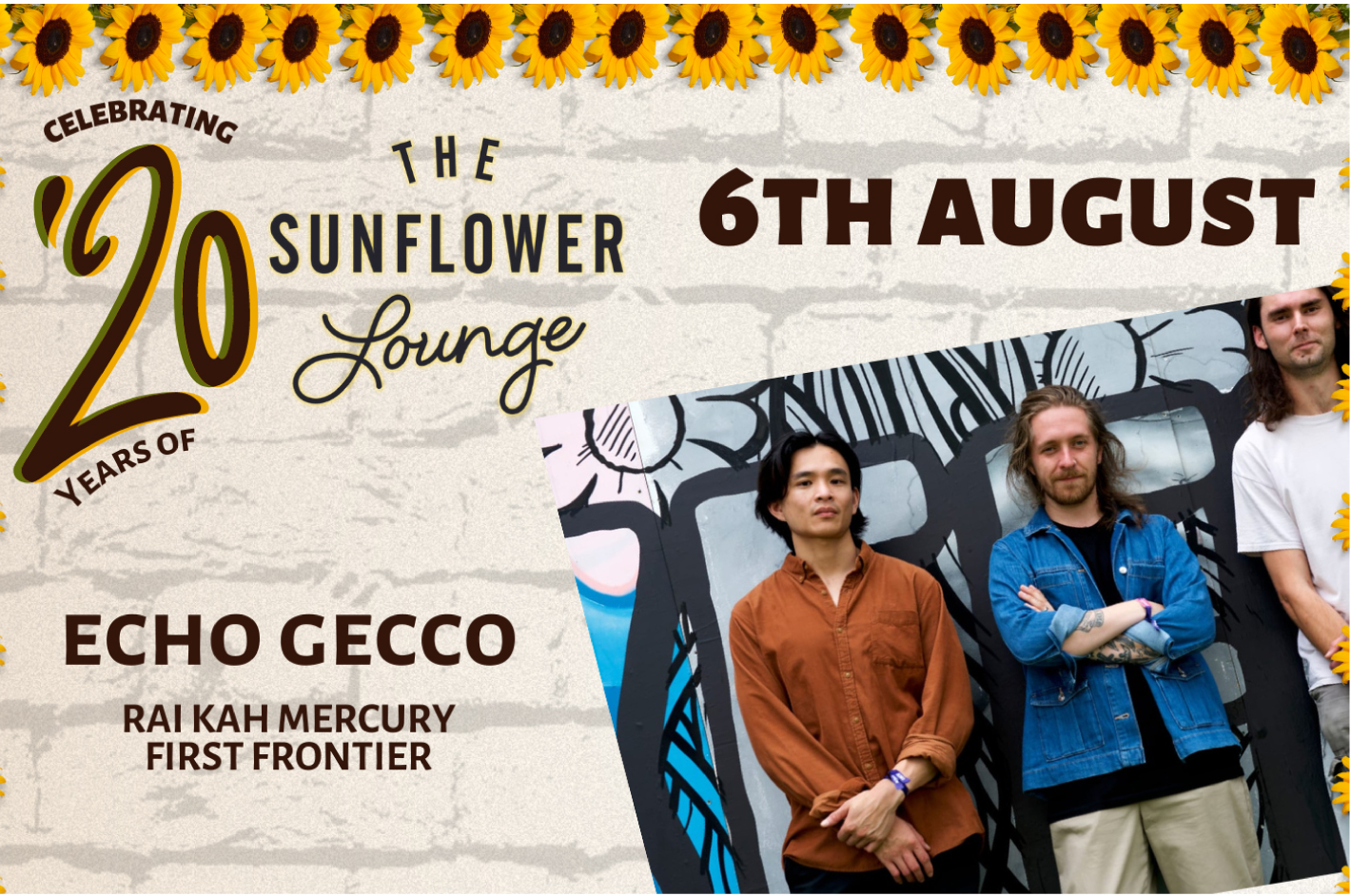 Event Details
Date: Saturday 6 August 2022
Doors: 7.30pm
Price: £8
Ages: 18+
Uncover Presents:
ECHO GECCO

Three friends that want to push the boundaries of their music with a good ale in hand. They live to play live and ensure that there something for all tastes with an ability to be outrageously intense and solemnly tender within a single song. ?
Their first EP 'Early Doors' was recorded in Worcester UK at Severn Valley Studios. The guys recorded 9 songs live in 2 days and picked the 5 best suited for the EP to release into the wild. ? The band began at College but each member were a part of different musical projects that panned from heavy metal to acoustic folk music.
Drummer Jon and Guitarist Josh met in a music class and have been thick as thieves ever since, jamming together for years and undertaking various projects until Echo Gecco was formed. Josh and Kecach met at university in Birmingham studying music. They became fast friends and began to start different bands and projects together. ?
As time past, Josh, Jon and Kecach began to start jamming together in an industrial estate in Stourbridge UK; mulling around different songs and generally jamming into the wee hours of the morning. Until one day they decided to form a band with an ethos of being different… but not too far removed. Thus, Echo Gecco was born! ?
Echo Gecco are constantly writing new material and hope to record everything they create! They want to show the world how jamming with ale at a bonfire can produce good music!
RAI KAH MERCURY
Emerging from a disruptive but generative period, RKM have an eclectic body of work that interweaves genres including indie, psychedelic, and blues-rock, in addition to singer-songwriter inflections. The UK four-piece outfit is fronted by Tomás Pádraig Crean on vocals and guitar, Nathan De Giorgi on Keyboard and Synthesizer, Reece Aston Schaefer on Bass, and Joshua Anthony Lowe on drums.
FIRST FRONTIER
Birmingham-based
garage rock duo, First Frontier, make spirited, upbeat music to move to and
be moved by. They
are Helena, pounding drums, and Paul, flogging guitar, with both sharing vocal duties;
Brummie banter and Northern grit smelted down to forge new
music,
described by genuine human people
as either neo-garage, post-punk and rock in many guises. But who really knows what genre is anymore?
H&P met in 2016 when the status quo of the UK was upended and found solace and normality in one another. It wasn't until 2020 that this started to manifest itself musically rather than as general
angst and occasional overeating. They sought the
only outlet they knew that
could
bring
us all together and spark
joy: upbeat music.
A glorious
counterpoint to all the negativity and frustration.
And thus, dear friends, First Frontier was born.
When it all came spilling out in rhythm and verse, everything started to make sense. In this age of one hundred micro-social revolutions, they asked themselves: how can we help? How do we hinder? What's the glue that connects rather than divides? From these questions came an answer. A
debut
EP named
Just Matter.