Declan Welsh & The Decadent West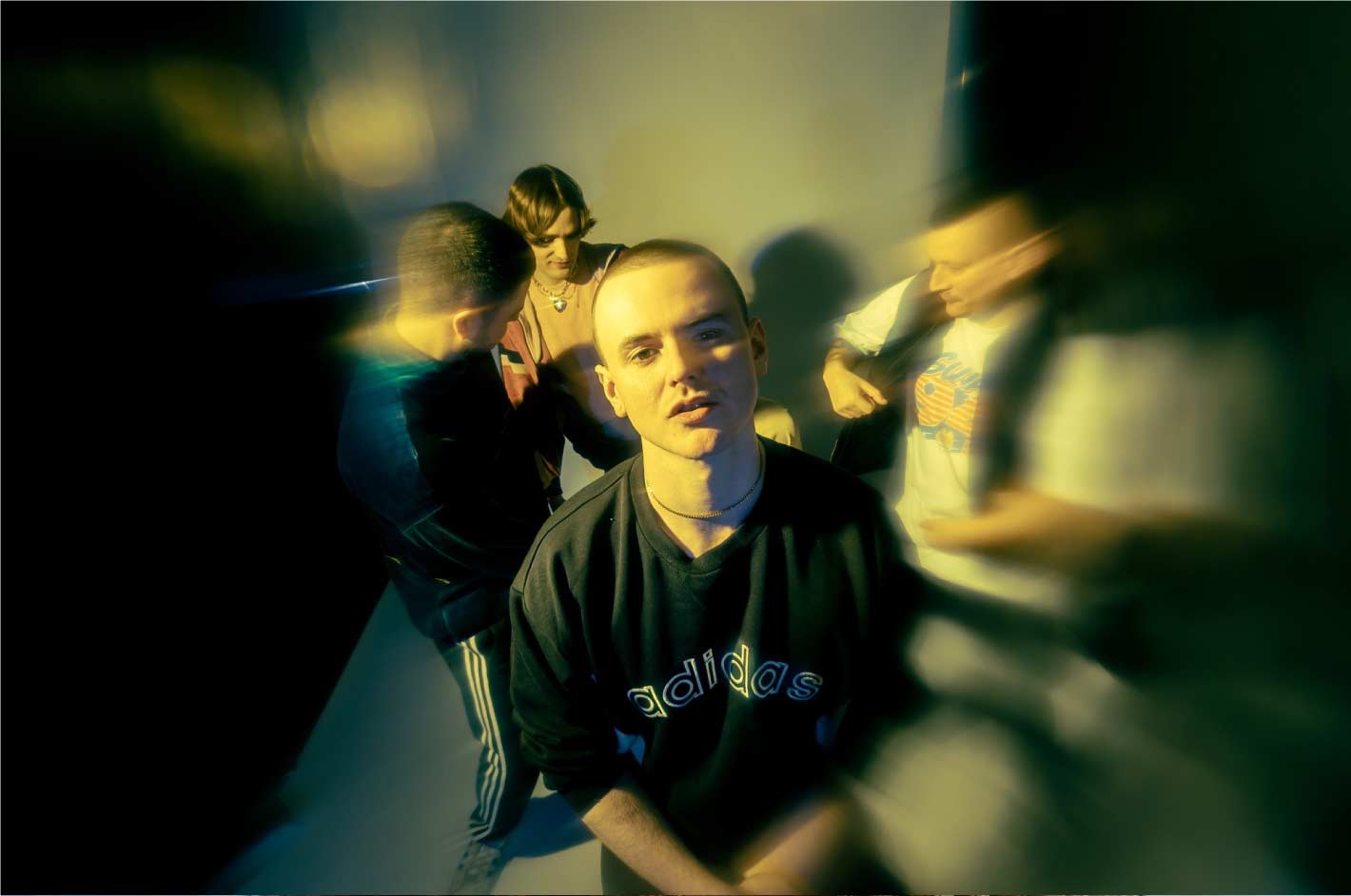 Event Details
Date: Sunday 5 November 2023
Doors: 7pm
Price: £10
Ages: 16+
Declan Welsh & The Decadent West
DWDW are a band from Glasgow with a focus on intelligent, relatable lyrics, catchy
hooks and an electric live show. A prolific writer, Welsh and his band (Duncan McBride,
Guitar, Ben Corlett, Bass and Murray Noble, Drums) have already released 4 EPs and 1
Album to critical acclaim, receiving a Scottish Album of The Year Award nomination for
their debut Cheaply Bought Expensively Sold, as well as BBC Introducing Track of the
Week for its opener No Fun.
Being championed by the likes of Jack Saunders, Billy Bragg and Arielle Free, the past
few years has seen them tour relentlessly to promote CBES, with the band already
racking up appearances at Glastonbury, Isle of Wight and TRNSMT Festival (UK),
Reeperbahn Festival (Germany), Bet Lahem Live (Palestine), Oberkampf Festival
(France) and many more. This, combined with sold out headline shows and support
shows with the likes of Twin Atlantic, Echo and The Bunnymen, Squeeze and The
Proclaimers have seen DWDW garner a reputation as "The Future of Scottish Rock
Music" (Courier), with Jack Saunders of Radio 1 commenting that "No one knows how
to whip up a mosh pit like DWDW. I know – I've been in the centre of one!"
With over 3m streams on debut album anthem 'Absurd' alone, and radio play from
Radio 1, Radio Scotland, Radio X and more, DWDW remained prolific during lockdown,
where they released 3 EPs. In the absence of touring, this has allowed them to retain
their connection with fans, while expanding their catalogue of sing along, festival ready
anthems. Songs from these EPs and their debut full length have been featured in media
extensively, from 'Times' use in Tennent's 'Dedicated to You' television campaign, to
'Do What You Want's use in Teatum Jones' opening of London Fashion Week, with
DWDW collaborating with creatives in all fields.
Insightful, introspective and intelligent songwriting has defined the post CBES chapter of
DWDW's output, and it is this ability as a songwriter that attracted the attention of
Mercury Award winning producer Gianluca Buccaletti (Arlo Parks, Big Piig, Easy Life).
With Luca, the band recorded their 2nd album and have described it as "The best thing
we've ever done". Speaking of their recent sessions, Luca said – "I've been waiting a
long time to work with a band like DWDW".
Following a string of sold out UK shows in late 2022, including their biggest ever
headline gig at the iconic Barrowland Ballroom in Glasgow (1900 capacity), the band
unveiled 'Mercy', the first glimpse of the LA recording sessions, tying off what had been
their best year as a band to date.
Now, The Decadent West announce the release of their long awaited second album
entitled '2', due for release on September 22nd. Recorded between Los Angeles and
Glasgow throughout the previous 12 months, the album offers a distinct shift from the
taut alternative rock that saw them gather a fervent fan base across Scotland, the rest
of the UK, Europe and the Americas – signaling a band with ambitions far beyond what
they have already achieved.
'2' encapsulates a band with expanded horizons, harnessing a broad scope of influence
from 'In Rainbows' era Radiohead, to the New Romantic electronic soaked music of the
1980's. Written and demoed entirely from Welsh's bedroom during lockdown, '2' sees
the bands sound mature, while retaining the acerbic lyricism and melodic focus present
on their earlier work. Lush harmonies, intricate guitar and synth work by guitarist
Duncan McBride (1 half of the Glasgow based radio show and clubnight 'The Queer
History Of Dance Music'), the bass grooves of Ben Corlett and percussion of drummer
Murray Noble pull "2" in varied and expansive directions – from bedroom hyper pop
('100-1) to cinematic alt rock ('Reckon'), casting aside any preconceived notion of what
a band from Glasgow can be.
'2' evokes the experience of coming to terms with a world in which we are increasingly
isolated and uncertain. Welsh's experimentation and continued obsession with
songwriting led to over 100 demos, with the final 10 tracks making up the band's most
complete work to date – traversing topics of self-doubt ('King Of My Head'), isolation and
apathy towards global conflict ('Ok Now').
Speaking of the album and it's creative process, Welsh explains:
"I guess the album is a product of its environment, written over a period of time in which
the outside world seemed as far away as it ever has done. It's an introspective album in
some parts, and in others it's an album about watching people from a distance.
Musically there's a lot more space than anything we've done before, a lot of that has to
do with it being created in a bedroom first off. That's the synthetic part, but we then
recorded most of everything live over it, with real instruments. So there's this dual
personality I think, where the synthetic and the analogue are kinda fighting it out. The
result of that is this kinda detached attitude that gives way to huge moments of emotion.
Lyrically, this is reflected back, with the album discussing issues concerning rumination,
isolation and anxiety before moments of humour, hope and love break through to lift the
songs and provide light to the shade.
It's the best lyrics I've ever written, and songs like 'King Of My Head', 'First To Know'
and 'Come Outside (Compromise)' are the most vulnerable and introspective I've ever
been in my art. Complimenting those are more outward looking songs such as '100-1
(Saturday Night)', 'I Don't Know Why' and 'The Comedian', which are essentially short
stories put to music. These stories are varied in subject matter (addiction, masculinity,
the apocalypse and failure), but are all tied together by the overarching themes of hope,
paranoia and a fundamental need for human connection being denied in some way. "
Coinciding with the announcement of '2', the band shared a glimpse of what's to come
with single 'King Of My Head', a Pet Shop Boys-esque ode to overthinking. Crystalline
synths and looping bass lines evoke feelings of angst and spiraling thoughts, as
Welsh's introspective lyrics wrestle with the idea of thinking your way out of your own
head – throwing a metaphorical Lynx can on the fire.
Furthering on from the hand brake turn of 'King of My Head', the band are set to release
new single 'First to Know' on June 15th.
"It's a song that goes from this really wavy, chilled out verse to this dramatic chorus and
the music came first. Outside of the bass and drums this song was pretty much finished
in one go. So I was trying to reflect that vibe, a situation that makes you feel almost
numb, spaced out then intensely emotional. It's a song about feeling as low as you can
and wanting out. About giving up. The "go"-ing in "if I was ever to go you know…" is a
permanent exit. It's a glib chorus, using that kinda understatement to make quite a scary
point. Sometimes when we can't findenough reasons to carry on for our own sakes, it's
the people we love that keep us hanging on. The music is chilled, the lyrics are heavy. I
like the juxtaposition." – Declan Welsh
After coming through the hardships of a global pandemic together, they are ready to
make up for lost time. 2023 is theirs.
2023 will see the band tour across the UK and Europe in support of the album release
including a monumental appearance on the Main Stage of TRNSMT, Scotand's biggest
festival.