HUNTER & THE BEAR + LAWRENCE TAYLOR
Event Navigation
Hunter & The Bear bring their explosive alt-rock to Birmingham as they play an intimate venues tour ahead of the release of their new album later this year. Songs from the album (recorded with super producer Romesh Dodanenga) will make their live debut, alongside fan favourites such as the dark, high-tension Chemical and the jagged and punchy crowd pleaser Electric.
And it's not just new songs debuting on this tour – new guitarist and Birmingham native John Caddick joins the party for the first time.
Expect big riffs, huge choruses and energy through the roof from one of the UK's most exciting modern rock bands.
Hunter & The Bear Links: Website | Facebook | Spotify
Watch the official music video for 'Chemical' below:
---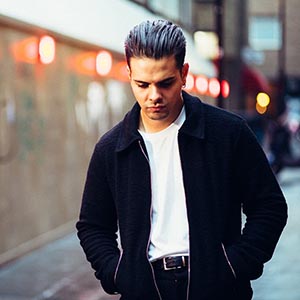 In 2016 Lawrence Taylor's aim was true as with his freshly recorded debut EP, Bang Bang, he made his mark. Taking a YouTube/ streaming route that's been much copied since the simple, emotive yet devastating title track proved a heart-stopping, compelling bolt for audiences, as with limited radio airplay the EP clocked up around a quarter of a million streams a day around release. Laying it all on the line for the sake of the song, the Birmingham-born singer's the passion and pathos not only chimed with listeners, but his accomplished songwriting suggested this was no flash-in-the-pan but the emergence of an important new talent. Indeed, having cut his musical learning how to work a crowd – or rather a mosh pit – in hard rock bands as a teen, before relocating to London where he developed his own sound via a gruelling round the clock grind of playing open mics at night and working supermarket shifts all day, Lawrence's breakthrough was no accident. "It's a constant chase for that sound, it's exhausting, but it's the reason I'm here and I love it," he says of the graft.
A follow-up to Bang Bang has not been immediate, but there was good reason for not rushing. When you write honestly from the heart getting everything right is vital – and with the Poor Boy EP now set for release via Glassnote Records it is clear the wait was worth it
The redemptive title track builds from a foreboding lyrical opening, to its smouldering, shimmering climax, while baring its emotional bones, No Messiah is an evocative meditation around accepting that sometimes we are helpless. The soaring Fight For Your Life is an honest "emotional response to how I feel I'm fighting for everything at the moment" before the rolling beats and swelling melodies of closer Home provide the backing to a simple, yet affecting expression of missing the people and places that matter most.
"I write pop songs, but I want to break the current formula. I want to get behind the system and find my space," says Lawrence of this this forward-thinking yet immediate collection of songs. "I feel thanks to this record I'm freer, I can go anywhere with this. I'm excited, I just need to think smart and continue to keep pushing forward."
Perhaps a little later than expected, with Poor Boy EP Lawrence Taylor remains on target.
Lawrence Talyor Links: Facebook | Instagram | Spotify
Watch Lawrence Taylor's performance for 'Poor Boy' at the Fish Factory Studio below: