SWIM DEEP + SUGARTHIEF + DJ SETS
Event Navigation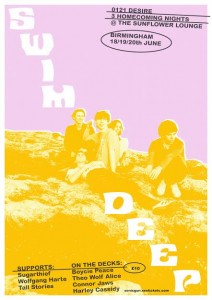 Birmingham four-piece Swim Deep play melodic, guitar-based rock that belies the influence of '80s dream pop and '90s shoegaze. Swim Deep signed with Chess Club in 2012 and released their debut single, "King City." Several singles followed and helped garner press interest as well as a growing fan following. In 2013 Swim Deep released their debut full-length album, Where the Heaven Are We, which peaked at number 20 on the U.K. albums charts. In 2015 Swim Deep returned with their sophomore full-length album, Mothers. Showcasing a more psychedelic, gospel, and acid house-influenced sound.
Swim Deep Links: Website | Facebook | Spotify
Watch the official music video for 'Honey' below:
---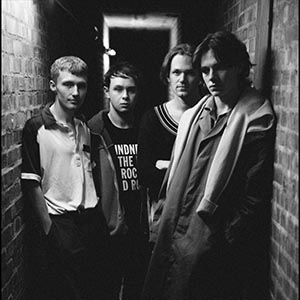 Brothers Jordi & Jack James created Sugarthief after a few years busking and playing open-mic nights. Their desire to play their 'home-recorded' music in a full band setup led them to join forces with ex-school pals Reece Downton (Drums) and Luke Owen (Bass).
Throughout 2018, Sugarthief have enjoyed shows with The Night Café and The Twang while they've performed to large festival crowds at the Isle of Wight and Truck. Add numerous sell-out shows in London, Manchester, Nottingham, Leicester and their hometown of Birmingham into the mix and it's safe to say that they've grown as a band – both personally and musically.
The December 15 (2018) release of Good Luck I Hope You Make It signalled a shift in sound for the quartet as they experimented with twirling organs and a slight 60s psych tinge.
"During writing and recording, we were more experimental with our approach and sound," explained Jordi. "We added organs and synths to the creative process which changed the dynamic dramatically. I think our sound has moved on from our previous material, but it's important that the music grows with us – and reflects our current state of mind too."
Sugarthief's debut EP entitled I Before E(P) is out now.
Sugarthief Links: Website | Facebook | Spotify
Watch the official music video for 'Joy Affair' below:
---
Plus dj sets from
Boycie Peace
Theo Wolf Alice
Connor Jaws
Harley Cassidy