Meat Wave + Mutes
Event Navigation
Meat Wave is constantly being asked about its name, but it gets why you would. Pulled from a classic headline in The Onion, the Chicago-based trio will release its new album Delusion Moon via SideOneDummy on September 18th.
Delusion Moon is a record that works as one interlocking piece. Focusing on the lunar cycles and the concept of moon sickness, Meat Wave puts themselves in other peoples' shoes and attempts to work through the insanity of our modern world. It's a record that's varied, versatile and endlessly venomous.
Formed in 2011 by the trio of Chris Sutter (vocals/guitar), Joe Gac (bass) and Ryan Wizniak (drums), the three punk scene stalwarts came together and, just a year later, released its self-titled full-length debut. That first collection of songs was a master class in abrasive post-punk made to feel poppy, simultaneously referencing Hot Snakes, the disgruntled lyricism of Shellac and a little bit of The Jesus Lizard's fire-spitting sneer just for good measure.
Meat Wave Links: Soundcloud | Facebook | Twitter 
Listen to 'Erased' below:

---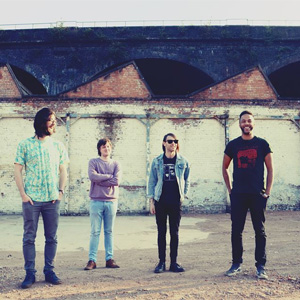 Plus support from MUTES
Having evolved from the solo bedroom recordings of frontman James, Mutes are now a very different entity altogether. Having recruited a full band, Mutes embrace a darker philosophy – creating sprawling noise-rock complete with crescendos of distortion not dissimilar to art-rock heroes Sonic Youth and Deerhunter. Retaining the lo-fi aesthetic of their early ambient interludes and sparkling drone sections, Mutes now touch upon the beautifully delicate and purposefully cacophonous with equal measure, transcending the genres of its heroes; touches of grunge, moments of no-wave, and flashes of lo-fi inspired shoegaze.
Mutes Links: Bandcamp | Facebook | Twitter
Listen to 'Holly Terror' below: