Killer Wave presents: PEACE AND LOVE BARBERSHOP MUHAMMAD ALI / TABLE SCRAPS / CATBONE
Event Navigation
Killer Wave is proud to present: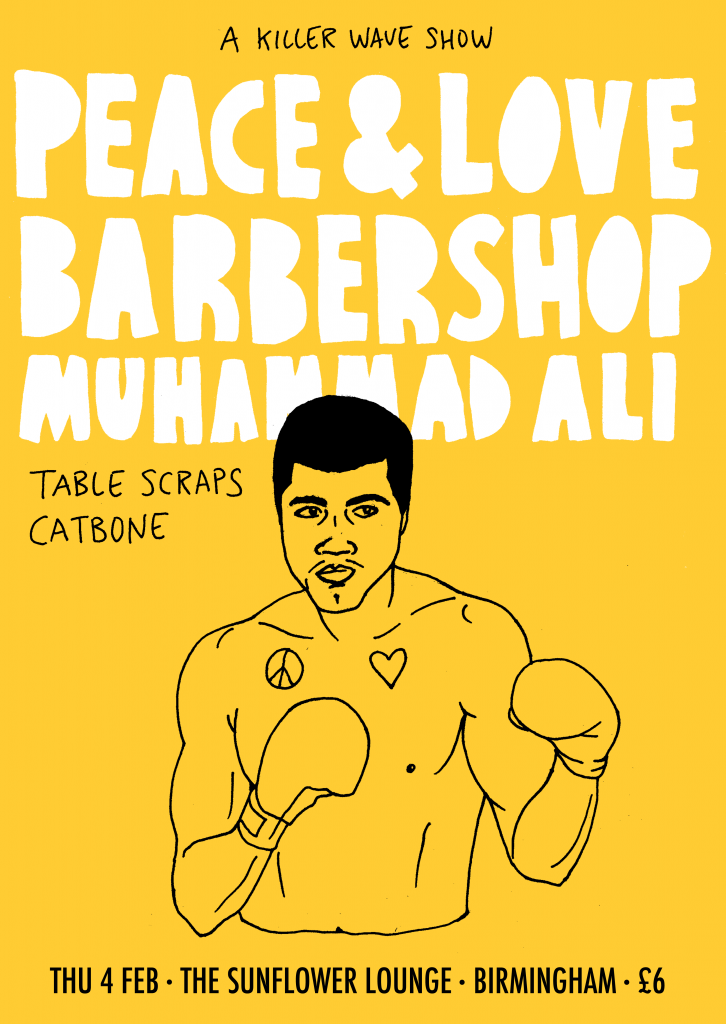 – PEACE & LOVE BARBERSHOP MUHAMMAD ALI –
From the ashes of Killer Wave favourite noise merchants Brown Brogues rises a new beast altogether part grunge/part glam a droned out mix of sexiness and grunge with all the hooks to keep your foot tapping and singing the words till you get to bed.
Recent plaudits coming thick and fast from 6 music to Bristol's great garage label Stolen Body records and fresh off the boat on tour with PINS, these guys will make the Sunny's floor shake.

– Table Scraps –
Birmingham's finest purveyors of fuzz, drums, caterwauling and more fuzz join the bill perfectly. With super excellent debut album "Strangers" already fixed in alot of peoples heads as a highlight of 2015 their back catalogue is ever growing and well respected among garage rock/Cramps lovers.

– Catbone –
It's been a little while since we caught up with Killer Wave old boy Rich Kelsey and his band of merry pranksters, with a new drummer/line up but the same infectious songs and more we can't wait to see the new louder and badder set up.
This is gonna be a big one!!