HIGH VISIONS + WISHING WOLF + INSOMNIACS + ASBESTOS
Event Navigation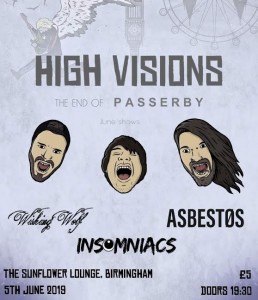 Formed in early 2015 in a nightclub toilet in Leeds, High Visions are an energetic pop punk trio focused on bridging the gap between the modern pop punk sounds of Neck Deep and Trash Boat with the blistering skate punk of the early 2000's.
The three-piece recorded and released their first EP, Waving the White Flag, among dissertation deadlines and university stresses. Following graduation, they wrote and recorded their sophomore release, concentrating on themes of mental health and self-improvement from a unique perspective.
Having played alongside acts such as THECITYISOURS, Mallory Knox, Death by Stereo and Allusondrugs, High Visions are not a name to miss out on. Combining bombastic double-time beats, catchy choruses, an explosive live show and a DIY aesthetic, High Visions are the hybrid pop-meets-skate-punk band you never knew you were waiting for.
High Visions Links: BandCamp | Facebook | Spotify 
Watch the official music video for 'Shit Out Of Luck' below:
---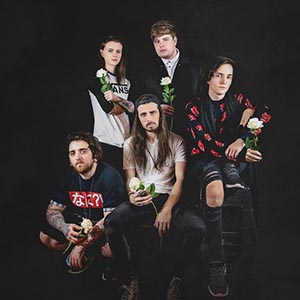 Wishing Wolf are an energetic alt/pop punk/emo band from Kettering, Northamptonshire.
Wishing Wolf Links: BandCamp | Facebook | Spotify
Watch the official music video for 'Closer' below:
---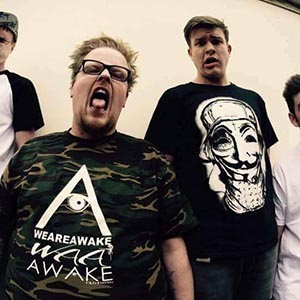 Insomniacs blend the speed and angst of 90's Skate Punk with melodic and modern pop structures. With catchy choruses, fast riffs and driving beats throughout, Insomniacs' debut album 'You Wont Feel A Thing' is now available via all online stores and streaming services and hard copies are available from their big cartel.