DRUG CHURCH + SINGLE MOTHERS
Event Navigation
Drug Church are a glorious contradiction. They're an unabashedly aggressive band that writes hooks you can't stop humming; too poppy for the heavy crowd, too heavy for the poppy crowd. Their frontman is a singer who rarely sings, delivering lyrics the revel in the darkest corners of the human condition but are just as likely to make you laugh as to make you flinch. The band loudly shouts uncomfortable truths we'd prefer to avoid but makes us want to shout along with them; they make serious music but don't take themselves too seriously; they're completely adverse to planning but have found accidental success. Now on their third full-length, Cheer, the band has doubled down on their Drug Church-iest impulses and somehow emerged with their most accessible album to date.
Over six years, several EP's, and two full lengths, Drug Church have earned a cult following by making outsider music that's as thoughtful as it is hard hitting. Their sound is a crushing mix of hardcore energy, 90's alternative melodicism, and Kindlon's signature sing-shout; of that doesn't exactly fit into a convenient box, it's because the most intentional thing about Drug Church is knowing the value of being unintentional. Kindlon says, "If I have any success I'd like it to be just because people like the thing, not because I sat in a dark room learning brand alchemy."
Drug Church Links: Website | Facebook | Spotify
Watch the official music video for 'Unlicensed Hall Monitor' below:
---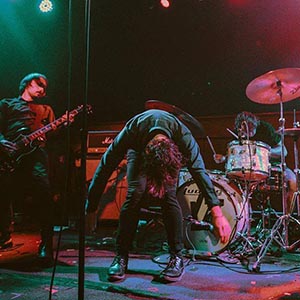 As they declared on their website, "Single Mothers broke up in 2009 – and have been playing shows ever since." Based in London, Ontario, Single Mothers play a rousing and street-smart variety of punk rock with ranting vocals laid over the top, and as their self-description suggests, the band's rise to prominence on the Canadian punk scene has come with some unpredictable left turns. Single Mothers first unleashed their taut, turn-on-a-dime musical assault with a handful of independent singles before releasing their unrelenting debut album, Negative Qualities, in 2014.
Single Mothers Links: Facebook | Twitter | Spotify
Watch the official music video for 'Well Wisher' below: