DADDY ISSUES & PAWS (Co-Headline Tour) + CALLUM KERRIGAN
Event Navigation
"Flirty, flighty girl pop never sounded better, even from The Runaways." – Cashbox Magazine (Canada)
When singer and guitarist Jenna Moynihan saw the phrase "" scribbled on the bathroom wall of a now-defunct Nashville DIY venue, she mistakenly assumed it was the name of an all-girl punk outfit sure to become her next favorite band. Upon realizing that no such band existed, Moynihan and friends Emily Maxwell (drums) and Jenna Mitchell (bass) picked up their instruments, taught themselves how to play and started their own band. Three years later, Daddy Issues are gearing up to release their full-length vinyl debut Deep Dream, out 5/19 via Infinity Cat Recordings.
The band originally caught Infinity Cat's eye after tastemaker Casey Weissbuch offered the trio a spot on the cassette series he curates for the label, which has hosted releases from artists like Rozwell Kid, Colleen Green and Guerrilla Toss over its three-year history. Days after submitting their tape in the summer of 2015, the band signed to Infinity Cat as official artists, releasing a 7″ split with Louisville band White Reaper later that year. Shortly thereafter, the band started work on Deep Dream with producer and label owner Jake Orrall (JEFF The Brotherhood, Colleen Green). Combining the sounds of '80s alternative, '90s grunge and '00s pop, Daddy Issues tackle the difficulties of friendship, heartbreak, mental health, sexual assault and a number of other issues that come with the package of youth in the modern world.
Daddy Issues Links: Website | Facebook | Twitter
Watch the video to 'High St' here:
---
PAWS are Phillip Taylor, Josh Swinney and John Bonnar.
In 2012 the band released the Misled Youth EP followed shortly by their debut full length album Cokefloat!, which garnered critical acclaim from the likes of Pitchfork, The BBC and SPIN. That album, recorded by ex-Test Icicle, Rory Attwell on the boat/studio "Lightship95," introduced the band's explosive songwriting to the world, boiling down emotionally charged lyrics with the whiplash snap of punk. The band soon after toured with Japandroids, We Are Scientists and The Cribs and their live show proves time and again their comfort on the stage, leading SPIN Magazine to place the band at number four on their "Top 50 Best Acts at SXSW Festival in 2013."
Paws Links: Website | Facebook | Twitter
Check out the video to 'No Grace' here:
---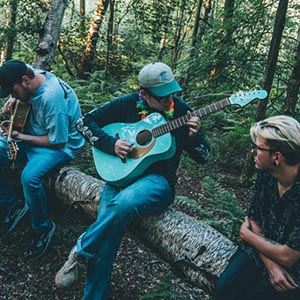 Callum is a 19 year old indie folk singer-songwriter originally from Rugeley, Staffordshire but currently based in Nottingham with influences including: Jawbreaker, (Sandy) Alex G, Frightened Rabbit and Bon Iver. He has supported the likes of Dave McPherson (InMe), Stevie Parker, All The Luck In The World, Las Rosas (NYC), Violet (FKA Cold Ocean Lies), Eliza Shaddad; and has headlined The Rainbow, Birmingham.
Callum Kerrigan Links: Facebook | Twitter | SoundCloud
Watch and listen to 'Daisies' below: