BEAR WITNESS + LITTLE THIEF + KROOKED TONGUE
Event Navigation
Bear Witness are a 3 piece alternative rock band from Birmingham with a focus on strong songwriting and expression.  Integrating subtle melodies with monstrous rhythms, influences include Queens of the Stone Age, Kings of Leon, Muse and Jeff Buckley. With their debut EP 'Dreams of Fame' released earlier this year they are looking to cause a stir with as much beautiful noise as possible!
Bear Witness Links: Facebook | Instagram | SoundCloud
Watch the lyric video to 'Liquid Diamond' below:
---
Little Thief announce themselves to the world with the release of their debut single 'Monster'. The Bristol based three-piece have been making a name for themselves around the UK with their upbeat & highly energetic live show.
With sounds similar to The Black Keys, The Hives and Queens of The Stone Age, the new single "Monster" is described by the band as sounding "like a deliciously dirty, triple-stacked, extra-cheesy, heart attack". Singer, Charlie Fitzgerald says the song was written about "trying to fend off your demons…or at least keep them at bay".
Little Thief spent much of Summer 2018 driving around in their van playing festivals and venues around the UK, touring with People's Front Room and selling out their most recent hometown show at The Crofters Rights. "Monster" will pave the way for their eagerly awaited debut EP which will be released in Spring 2019 along with a full UK tour. 
Little Thief Links: Website | Facebook | Spotify
Watch Little Thief perform 'Freak' in the snow below:
---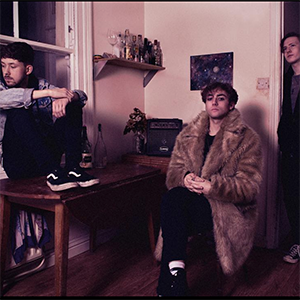 Krooked Tongue is a British underground rock trio combining heavy riffs and melodic hooks, creating a wall of sound squeezed from the same icy waters as Nirvana, Queens of the Stone Age and Highly Suspect.
Krooked Tongue Links: SoundCloud | Facebook | Instagram